APRIL
Cali goes BEST IN SPECIALTY SHOW!!
Exactly one year after arriving in Canada, Cali goes BISS at the BC Siberian Husky Club under Maryl Foster.
Mystique wins Winners Bitch and Best Bred by Exhibitor and Berry wins Award of Merit.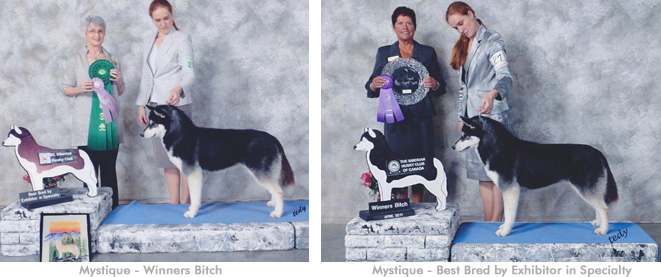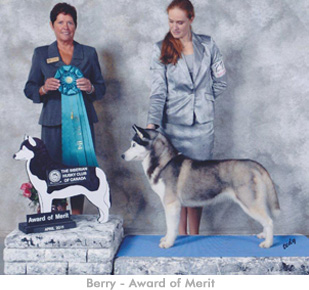 MARCH

12 March 2011 - Cali wins Best of Breed under judge Mr G. Bodegard (Sweden) and goes onto to take a Group 3 under judge Mr A Zee (Taiwan) at the CKC Purina National! This prestigious win places Cali in the number 3 Siberian Husky in Canada at this time!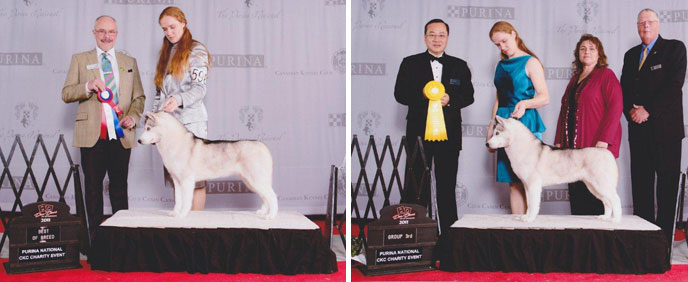 FEBRUARY
26 February 2011- Elvis wins BEST PUPPY IN SHOW!! Elvis also wins Best opposite sex to Cali under judge Mrs Sandy Alexander.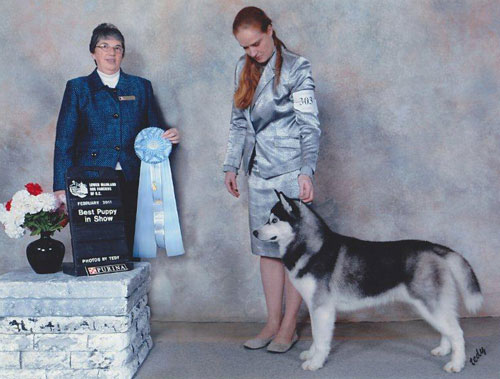 SEPTEMBER
To date we have managed to finish three Canadian champions (Cali, Bear and Berry) since our arrival in Canada in April 2010. Berry become our latest champion this past weekend and we have three dogs that are pointed and waiting for their coats to return before we attempt to finish their championships.
APRIL
Cali was made up as a Canadian Champion at her very first shows in Canada on one weekend and also managed to take a Best of Breed and Group 4 to shoot her to No 6 in the Canadian ratings (Siberian Huskies) at the present moment. She also took the honors of Winners bitch and Best of Winners at the National Specialty.
MARCH
We have recently moved to Vancouver Island, Canada and will be attending our first shows this weekend including the Canadian National Specialty. We look forward to a new adventure!
FEBRUARY
Cindy will be competing in the WSA World Championships to be held in Oberwiesenthal, Germany from the 26th to the 28th February 2010 by invitation of the WSA. We are very excited to be invited to such a prestigious event. Information on the event can be found at the following website http://www.schlittenhundeweltmeisterschaft.de/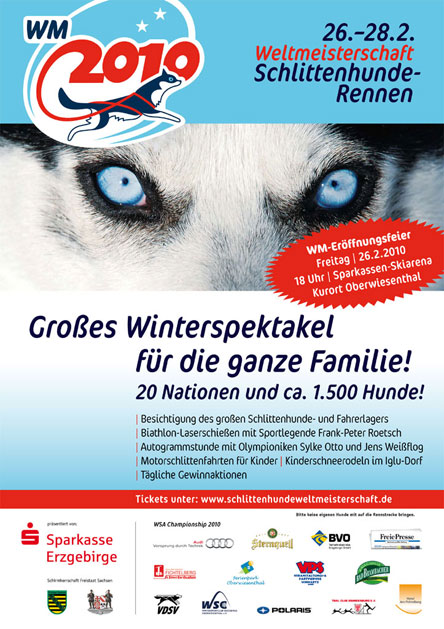 The 2009 show season has come to an end and what a year it has been for us! The following sums up what Wolvereen Siberian Huskies has managed to achieve this year:
Breeder of the Year 2009 *
Supreme Bitch of the Year 2009- Ch Wolvereen Gummi Bear *
Winners Bitch of the Year 2009- Ch Wolvereen She-Bear *
Winners Dog of the Year 2009- Ch Wolvereen Bear Necessaty's *
4 New Champions - Ch Wolvereen Gummi Bear, Ch Wolvereen Bear Necessaty's, Ch Wolvereen She-Bear, Ch Wolvereen Yukon Quest
Cali wins Best Junior In Show two days running!! What a way to go at her last shows as a junior. Thank you to judges A.Hauptfleish, R. Cabion and G.Morrison!
Berry took part in the Animaltalk Top 32 SA Bred Invitational at the World of Dogs and Cats during July 2009 and was shortlisted to the Top 8 South African bred dogs! Berry was the only Siberian Husky to be shortlisted to the top 16 before going on to the Top 8. A huge thank you goes to my friend Liz Norval for showing Berry whilst I was at work! We are so proud of this young girl who is currently the top winning Siberian bitch in SA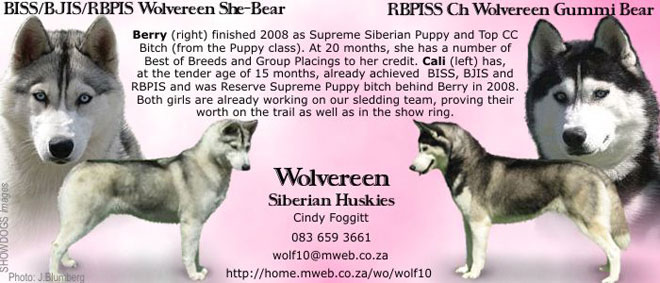 The 2009 Siberian Husky Specialty was especially special for Wolvereen Siberian Huskies:
Reserve Best In Show
Best Junior In Show
Best SA Bred In Show
Winners Dog
Winners Bitch
Best Stud Dog
Thank you to judge, Tanya Edwards for a wonderful day and a special thank you to my friends Anne, Liz and Djaki for your assistance and support.
18 April 2009 - SHCG Open Show - Judged by Nicole Hartig
Cali goes BIS and Bear has the honours of being Best Stud Dog. What a wonderful sight, Bear had seven of his children alongside him for this challenge.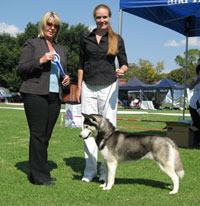 29 March 2009
Berry goes Winners Bitch, Best of Breed and Group 3, straight after completing her Championship. (Pictured left, Berry winning BOB under judge Linda Buckley from Australia.)

Cali goes Reserve Best of Breed from the Junior class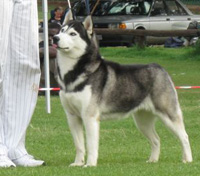 The first shows of the 2009 season have begun and Berry has already achieved her Championship status by obtaining her final point required at 18 months of age. This youngster completed 2008 as the Top Winners Bitch (from the puppy class) as well as the Supreme Puppy and runner up for Supreme Bitch of the year. All before 18 months of age!
Berry pictured here,"pulling a tongue at her competitors".
2008 Reflection

The year ended on a magnificent high with brilliant results from all our dogs. It was amazing to have an entire litter obtain points toward their championships including Best of Breeds and Reserve Best of Breeds all by the time they reached 14 months of age! Welll done Whizz kids, Berry, Baloo and Tookla. These were not the only Wolvereen dogs to shine in the ring this year; well done to them ALL.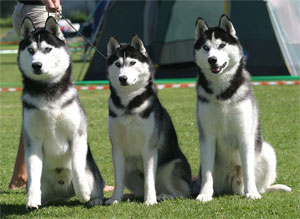 Whizz Kids
The following overall results for the year (pending SHCG confirmation) where as follows:
Supreme CC Bitch of the year
Wolvereen Gummi Bear
Supreme Puppy of the year
Wolvereen Gummi Bear
Runner up Puppy Bitch of the year
Wolvereen She-Bear

The 2008 Sledding season was very difficult and disjointed with the NSPCA's attack on the sport however Wolvereen Siberian Huskies was proud to win the Open class as well as the 2 dog scooter class at the SAFSS Championships.

Berry and Baloo had their final weekend as puppies and brought home more than we could ever have hoped. The 3 shows saw them take home a Best of Breed, Reserve Best of Breed, 5 CC's, 3 Best Puppy's including a Reserve Best Puppy In Show and numerous group placings in both the puppy and main groups between the two of them! I am so proud of these youngsters!
_____________________________________________________________________________________________

Zululand KC:
Ch The Wild Card of Wolvereen after a long break from the show ring goes BOB and Gr 4 at his first show back.
Wolvereen Bear Necessaty's obtains his first CC and Best Puppy with a Gr 2
Northern Natal KC:
Wolvereen Gummi Bear goes Best Puppy and Gr 3

Berry wins Reserve Best of Breed and 2 Best Puppy awards as well as a group 1 at only 6 months of age!

We have successful completed the World Sleddog Championships held in Sweden 7-9 March 2008. We proudly achieved an overall placing on 32nd in the 4-dog class, a brilliant feat for a musher that has never competed on snow prior to this event. Huge thanks go to Royal Canin, WSA, Jessica and Ola Olofsson from Vintervittra Siberians and all involved for their hospitality and kindness making it the experience of a lifetime! Thank you to all my friends and family for your continued support whilst I was in Sweden, I really appreciate you.

Ash completes her championship and finishes as Top CC Bitch of the year.
Yukon wins 13 Best puppies, Reserve Best puppy in Show, Best of Breed and Group 1 (at 13 months) as well as 3 CC's toward his Championship and is Supreme Puppy Dog 2007
South African Purebred Sledding Champions 3rd year running.
Sparks is Reserve Supreme Puppy Bitch.
Nike completes her championship and is 3rd Supreme Bitch of the year.

New Champions - Ch Wolvereen Cinderella and Ch Frosteesky Nike of Wolvereen

Dusty completed his championship
Nike finished the year as Supreme Puppy Bitch, Reserve Supreme Bitch and in the top 3 CC Bitches.
We were Purebred SA Sledding Champions for the second year running!
Justin won overall 2006 Champion for 2 Dog Scooter
Ash is Reserve Supreme Puppy Bitch