Empress is a magnificent combination of her parents with the "showy look" and the structure to match. Thank you to Kamchatka kennels for the use of King. Empress retired from the show ring but still runs actively on our team and is mother to Ash, Cali and Mystique.
Empress are lucky enough to be loved and cared for by extremely special people- Steve and Zarina Kellerman.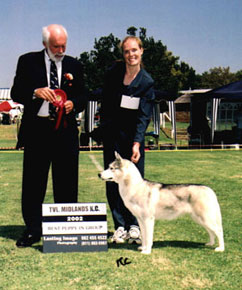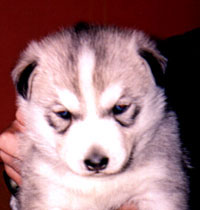 ACHIEVEMENTS
5 June '05 Empress achieves her speed working title.

Empress won Winners bitch at both the Outenique KC show and the Walmer KC shows held in the eastern cape this weekend 3-5 April 2004 and has successfully completed her championship!!

Empress took two consecutive Best Puppy awards on one weekend and went on to win Best Working puppy and 3rd in the working puppy group! Thank you to the Canadian judges for a fantastic weekend. (see photo below.)

In her first show out of the puppy class, Empress took Winners bitch and Reserve Best of Breed as well as Best Junior on two consecutive days.

Empress wins Best Of Breed, Reserve Best of Breed and Winners Bitch both days at the shows held at the South Coast on 28/29 September 2002. All this at 14 months of age.