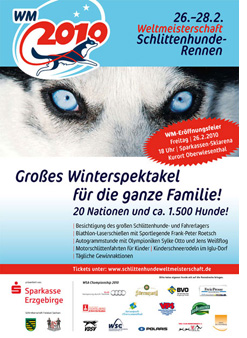 Cindy proudly competed in the WSA World Championship held in Oberwiesanthal, Germany in the 4 dog sprint class. She completed the 3 days (9.5km per day) in 31st position, a mere 5 minutes in total behind the leader. World class competition and an experience of a lifetime. Thanks going to Christoph Diel and Angelika Merkle for the use of 4 of their amazing dogs. Information on the event can be found at the following website: http://www.schlittenhundeweltmeisterschaft.de/

Sledding- SA Champs 2009
Cindy wins the Open (6 dog) class. It is the 4th year Team Wolvereen has won the SA Purebred title and was also the overall winner for the open class this year (including the non purebred teams).
Justin wins the 4 dog class. This is the first time Justin has run his own 4 dog team and took away the overall 4 dog and purebred SA title.
We are so proud of the Wolvereen teams, powered by Royal Canin! Huge thanks to our sponsor Royal Canin for your unwaivering support, special thanks to Audrey for everything!
(Pictured below are Justin and his team - Dusty and Cali in lead, Baloo and Quest at wheel)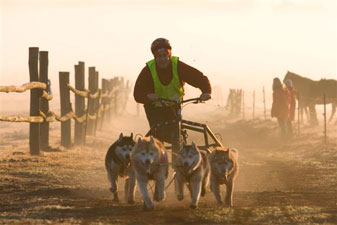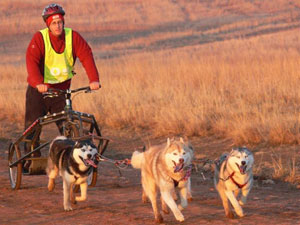 The IFSS World Championships
The IFSS World Championships was held in Quebec, Canada from the 16-25th January 2009. What an honour to compete in this world class event with some of the best sprint mushers from around the world including entrants from Jamaica, France, Norway, Sweden and Argentina. A total of 16 different countries and 400 competitors. A HUGE thank you going to Serge Pomerleau from Quebec for the opportunity to use his top class dogs bred by world renowned musher Terry Streeper. Thank you to all that supported and assisted me during this event and helped me to succeed. I also had the honour of meeting some sledding greats such as Harris Dunlap who I have only ever read about.
The final results from the 6 dog sprint class saw a finish in 20th position from a field of 33 entrants. A further 33 entrants in the 4 dog sprint class and a fantastic overall 16th position had me jumping for joy. This was better than I could ever have hoped for, unsurpassed by any other South African musher for an international event. (Photos to follow.)
Full results and photos can be found on the official website www.daaquam2009.com
Team Wolvereen wins the SAFSS Championships in the Open 6 Dog team class. Finishing time of 21min 25sec. Not only was our team the fastest purebred team but the fastest team of the day!
Congratulations also going to Tracy Bagg and Theo for winning the 2-Dog Scooter class overall, winning with purebreeds, Wolvereen Nvrending Story and Wolvereen Professor X. Well done guys!

World Sleddog Championships
7th to 9th March 2008

Sweden hosted the WSA World Sleddog Championships which we were fortunate enough to take part in. Jessica and Ola of Vintervittra Siberians were kind enough to loan me dogs from their excellent kennel to take part. I proudly and successfully completed the event in 32nd position. Huge thank you to Royal Canin for their support, all the officials and assistants and my family and friends for their support. This was a dream come true! Information on the event can be found http://www.polarhundsvm2008.se/ENGLISHincluding links to photos and tv interviews.

SA CHAMPS 3rd year running.

Team Wolvereen proudly won the purebred open category, canicross and came second in the purebred 2 dog scooter category. Well done to Theo and Tracey for winning the 2 dog scooter category also running a Wolvereen dog.

Team Wolvereen wins the SA Championships in the purebred category.

The Wolvereen team have completed the Nutriphase challenge comprising of 4 races. We finished 1st in all races in the purebred section and 3rd overall for nonpurebred and purebreds combined.


"Team Wolvereen" completed the sledding season on a high, winning the last race of the season in the purebreed category. The Wolvehoek 2 day event concluded the racing season in SA.

DULLSTROOM DERBY: "Team Wolvereen" has won the Purebred Open class (4-8 dogs) and was placed 2nd overall (including purebred and non-purebred teams) at this year's premium sledding event, The Dullstroom Derby. The event hosted by the Highveld sleddog club takes place over 2 days with teams completing a gruelling 13km course each day.

Our finishing times for each day were as follows: Saturday 9 July 2005: 53min 06sec -- Sunday 10 July 2005: 47min 05 sec

Total combined time 1 hour 40min 11sec